How to Stop Hair Fall Immediately at Home for Female! Having healthy and thick hair is the dream of all people who suffer from hair loss. In ancient times, with the limited research that was done in the field of hair, there were very few ways to achieve this dream, but today, due to the advancement of medical science, it does not seem impossible to achieve this dream.
In this article, we have listed all the solutions for hair strengthening, from the simplest home and oral solutions to going to the doctor and taking chemical drugs. Maybe you think that it is possible to strengthen your hair by eating some useful food and effective fruits? This may sound strange to you, but we are here to answer your hair strengthening questions, but also to tell you that nutrition can play an important role in keeping your hair healthy.
In severe cases where hair damage causes hair loss, specialists offer other treatment solutions. Keep in mind that every hair injury and every hair loss is caused by certain factors, that's why it is better to see a doctor specializing in this field to consider effective treatment solutions.
If you also think that healthy and thick hair is one of the main factors affecting beauty, then stay with us in the rest of the article, so that you can get to know all aspects of how to strengthen hair and be able to make the best decision when problems arise and in time. Do.
Investigating the most important factors affecting hair loss
In general, people lose about 50 to 100 hairs during the day, which is completely normal. Because the growth of new hair immediately replaces the lost hair. Hair loss occurs when the shed hair has no replacement and new growth does not occur.
Hair loss occurs due to one or more of the following factors:
Family history (inheritance):
One of the most common causes of hair loss is the effect of heredity, which usually occurs with age. This disease is called androgenic alopecia or male pattern baldness, which usually occurs gradually with a specific pattern.
Often, hair loss under the influence of heredity shows resistance to hair strengthening solutions. This pattern is recognized by the reduction of the hairline and baldness in men and the thinning of the hair along the crown of the head in women.
Hormonal changes and medical conditions
Various conditions may cause permanent or temporary hair loss; Hormonal changes are other effective factors. Hormonal changes due to pregnancy, childbirth, menopause and thyroid problems are among the things that affect the body's hormones.
In medical conditions, diseases such as alopecia areata, which is related to the body's immune system, causes alopecia areata, scalp infections such as ringworm, and a hair pulling disorder called Trichotillomania.
Taking drugs and supplements
The side effects of certain drugs cause hair loss; Medicines used for cancer, arthritis, depression, heart problems, gout and high blood pressure usually affect hair and cause it to fall out.
Radiotherapy
If radiation therapy is needed on the head, the hair will be severely damaged and may not grow back as before.
Exposure to extreme stress
Many people may experience thinning hair several months after being exposed to a physical or emotional shock. This type of hair loss is temporary and can be compensated to a large extent by using hair strengthening solutions.
Improper makeup and hairstyle
Excessive makeup and improper tying of hair (ponytail model) are other factors that cause a type of hair loss called traction alopecia. Also, some hair treatments that are done with hot oil and permanent treatments also cause hair loss. If there is a wound on the scalp, hair loss will occur permanently.
Investigating hair loss aggravating factors
In the following, you will get to know some of the factors that cause hair loss to happen more quickly. These factors include:
age increasing,
Significant weight loss
Some medical conditions, such as diabetes and lupus,
pressure and stress
Inappropriate feeding.
As we said earlier, hair loss is caused by many factors and occurs in different patterns in each person. For this reason, visiting a doctor and accurately diagnosing the cause of hair loss is an important step that you should take before starting treatment.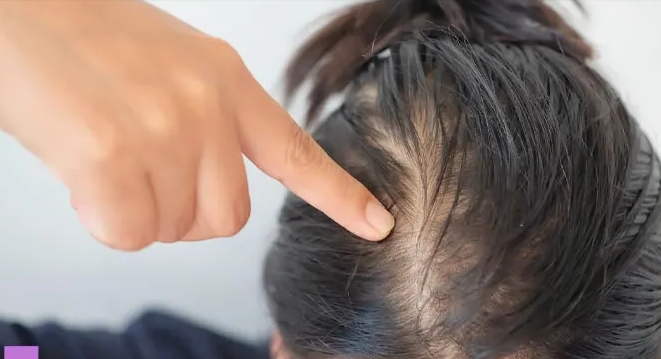 Strengthening hair with food
You may have heard that lack of nutrients can cause hair health problems. Some foods have a very high nutritional value that can easily strengthen hair. In the following, we will get to know the most important of them:
Egg
Eggs are an excellent source of protein and biotin; Two extremely effective ingredients that are essential for hair growth and strengthening. Eating enough protein is important for hair growth. Because hair follicles are mostly made of protein, and if a person's body is deficient in protein, not only hair will be damaged, but some kind of hair loss may also occur.
Biotin is necessary for the production of hair protein called keratin, and eggs are also rich in biotin. Biotin deficiency is uncommon if you eat a healthy diet. Eggs are also a good source of the minerals zinc, selenium and other nutrients beneficial for hair growth and can Stop Hair Fall Immediately at Home for Female
Berries and strawberries
Berries are another way to strengthen hair. Berries contain vitamin C and have strong antioxidant properties, and they are also rich in useful compounds and vitamins that strengthen hair. Antioxidants can protect hair follicles from damage by harmful molecules called free radicals. These molecules are naturally present in the body and environment.
For example, one cup (144 grams) of strawberries provides 85 milligrams or 113 percent of the daily requirement of vitamin C. The body also uses vitamin C to produce collagen; A protein that helps strengthen hair to prevent hair from becoming brittle and breaking and and this is the good way to have Having healthy and thick hair
In addition to the above, vitamin C helps the body absorb iron from the diet. Note that low iron levels may cause anemia, which is associated to Stop Hair Fall Immediately at Home for Female
Spinach
One of the most effective ways to strengthen hair is to include spinach in your daily diet. Spinach is rich in useful nutrients such as folate, iron and vitamins A and C, all of which are useful for hair growth and strengthening. Studies show that vitamin A is very important for hair growth and strengthening, but be aware that consuming too much vitamin A can lead to hair loss.
For this reason, you must maintain a balance for vitamin A intake and get this nutrient by consuming the right amount of foods that contain vitamin A.
Consuming one cup (30 grams) of spinach can provide 20% of your daily need for vitamin A; For this reason, it is very useful for strengthening and growing hair. In fact, iron helps red blood cells to carry oxygen throughout the body and provide metabolism, which ultimately strengthens and grows hair.
Fish
Fatty fish such as salmon, herring and mackerel have nutrients that strengthen and grow hair. In fact, these fish are the main sources of omega-3 fatty acids, which researchers have found in several studies to be related to hair growth and strengthening.
Fatty fish are also a good source of protein, selenium, vitamin D3 and B vitamins, all of which play an essential role in strengthening and healthy hair.
Sweet potatoes
One of the most interesting ways to strengthen hair is to consume sweet potatoes. These types of potatoes are an excellent source of beta-carotene. During a process, the body converts this compound into vitamin A, which is directly related to hair health.
A medium sweet potato (about 114 grams) contains enough beta-carotene to provide up to 160% of the daily requirement of vitamin A. Research has also shown that vitamin A can affect sebum production and help maintain hair health.
Avocado
This delicious fruit is highly nutritious and an excellent source of healthy fats. Vitamin E is an important and effective factor in strengthening hair, which is abundantly found in avocado. A medium avocado (about 200 grams) provides 28% of the body's daily need for vitamin E. Vitamin E, like vitamin C, is an antioxidant that prevents oxidative stress by neutralizing free radicals.
Vitamin E also protects the scalp from oxidative stress and damage. A damaged scalp leads to poor hair quality and reduced hair follicles and and this is the good way to have Having healthy and thick hair
Four nuts and seeds
Nuts are a rich source of nutrients. These nutrients are essential for maintaining healthy hair. For example, 28 grams of almonds provide 48% of the body's daily need for vitamin E. In addition to these nuts, they provide a wide range of B vitamins, zinc and essential fatty acids, and in addition to maintaining healthy hair, they also reduce inflammation and the risk of heart disease.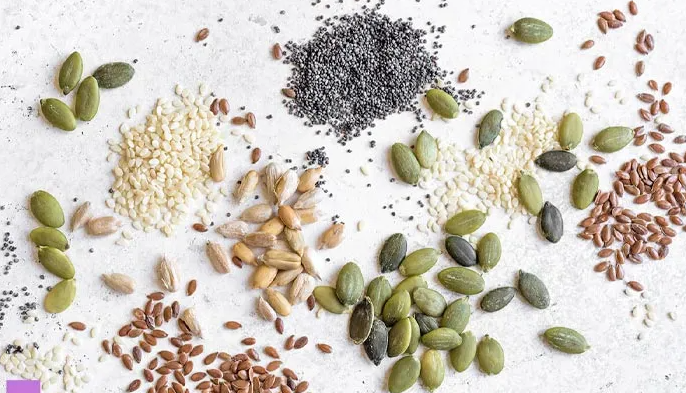 Bell pepper
Bell pepper is an excellent source of vitamin C, rich in antioxidants, which promotes hair growth and strengthening. In fact, bell pepper provides up to 456% of the daily requirement of women and 380% of the requirement of men for vitamin C. Also, this vitamin helps in the production of collagen, which strengthens the hair strand; This issue has made the consumption of bell peppers one of the ways to strengthen hair and this is the good way to have Having healthy and thick hair
Bell pepper is a strong antioxidant that protects hair strands against oxidative stress. Oxidative stress occurs when free radicals overwhelm the body's antioxidant defense system, which ultimately causes hair loss and graying. Bell pepper vitamins affect hair growth and sebum production.
Strengthen hair using homemade masks

How to Stop Hair Fall Immediately at Home for Female in deferent method. As mentioned, genes play a major role in the type, strength and volume of hair, but this does not mean that we cannot have any control over our hair. Some of the hair strengthening solutions are very simple and easy, by using which you can help to strengthen hair strands, increase hair growth and maintain the health of your hair.
In the following, we introduce some homemade hair masks whose effectiveness has been proven in various studies.
Egg yolk mask
Egg yolk contains proteins that the hair follicle needs to grow strong. Egg yolk also contains several essential nutrients that are considered a very rich source for hair growth and strengthening. In fact, the vitamins in egg yolk include vitamins A, D, biotin and folate.
You can make an egg yolk mask by doing the following steps:
Separate the yolks of 3 eggs and mix with 3-4 tablespoons of coconut oil.
Stir these two ingredients well until they are mixed together.
Apply the mixture to the scalp and hair roots.
After applying the mixture well on your hair, cover your head with a shower cap.
Let the mask stay on the hair for 10 to 15 minutes.
Finally, it is enough to wash the hair well with relatively cool water.
Use this method and How to Stop Hair Fall Immediately at Home for Female
Aloe vera mask
Aloe vera is rich in vitamins A, C and ETrusted. These vitamins help to grow and strengthen hair. Aloe vera also contains vitamin B12 and folic acid, both of which are essential for hair growth.
You can prepare a wonderful mask by preparing an aloe vera leaf. Remove all the gels inside the aloe vera leaf and mix it using a mixer. Then apply the resulting solution to your scalp and hair roots and take a shower after several minutes and this is the good way to have Having healthy and thick hair
Use of vegetable oils
Treating and strengthening damaged hair using vegetable oils is one of the most popular hair strengthening solutions used to restore moisture to dry, frizzy and damaged hair; Especially the treatment with coconut oil and avocado, which are very useful. Coconut oil and avocado oil contain high amounts of essential fatty acids as well as vitamins B5, A and E.
To make an extremely effective mask, you can do the following steps:
Mix 1-2 tablespoons of coconut oil with some avocado oil. The amount of avocado oil should be proportional to the length of the hair, but it is better to keep the ratio of both oils almost equal.
Pour the oil mixture into a glass container and gently place it in the bottom of a pot of hot water.
Allow the oils to mix well together, about 2 minutes is enough time as the oils are not going to get too hot.
Test the oil temperature using the skin on the back of your hand, the oil temperature should be lukewarm. If the oil is too hot, allow it to come to room temperature.
Once the oil is at the right temperature, apply it to the scalp, roots and ends of the hair.
Put a cap on your hair so that the oil stays on your hair for about 20 minutes.
Wash hair with lukewarm water and dry.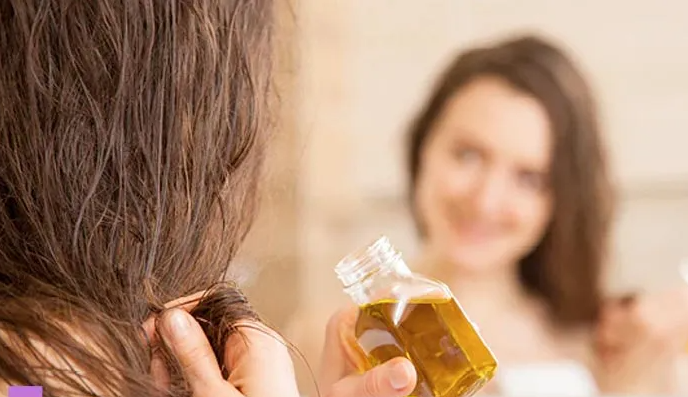 onion juice
Onion water mask is known as one of the oldest hair strengthening solutions. Onion juice contains sulfur, which increases the production of collagen in tissues and helps to strengthen and regrow hair. You can cut some onion pieces and extract the juice. Put the obtained water on your hair for about 10 to 15 minutes and then wash it. Care of above methods you can Stop Hair Fall Immediately at Home for Female and this is the good way to have Having healthy and thick hair